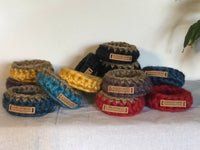 The COLOUR BURST Collection
Need storage, containers, baskets or bowls? Well, look no further, as our latest collection has an array of colourful baskets to keep you happy, neat and, well, contained.
"These colour burst collection baskets are gorgeous on my mantle. They're well made -- tight and strong -- and the quality of the material is excellent. Every time i see them it gives a lift and a nice positive vibes. I highly recommend ordering these gems. *****👍👍👍"
                                            --- bozza, Jan 4, 2019
TESTIMONIALS
Knit & Crochet
Vegan Washcloths

So perfect for my gifts to my daughter's bridal party! *****

Gina Sabella-Kelly
Rusty Wheat
Fingerless Mitts

Just love everything about these mitts! ....the color, the cable stitch, the feel the fit...the warmth!  *****

Niemela Hersh
Essential Oils Raku
Teal Macramé Necklace

Love it! Many compliments on the scent when I wear it. *****

Tracee Kafer